Fresh blackberries are always an invitation to bake something delicious! When I recently purchased some blackberries at our local farmer's market, I made Blackberry Muffins as soon as I got home. Today, I am sharing my personal blackberry muffin recipe here so you, too, can enjoy this delicious treat.
My recipe makes 18 muffins which seems like a lot at first glance. However, it didn't take my family long to devour these delicious muffins.
For either of us, when we pair these muffins with coffee, we are in a breakfast feast heaven. While I would normally say that the serving size is one muffin, in our home, the serving size is two or more muffins. They really are that good!

The Muffin Batter & Muffin Tins
This is a muffin recipe, not to be confused with cupcakes. The muffin batter is thicker and won't pour like a cake batter. I "spoon" my muffin batter into muffin tins. I bake them in non-stick muffin tins, therefore paper liners are not required. I do grease the non-stick tins with Crisco shortening and these muffins turn out easily.
My Blackberry Muffin Recipe


| Prep Time | Cook Time | Ready In | Yields |
| --- | --- | --- | --- |
| 20 min. | 20-25 min. | 45 min. | 18 servings |
Ingredients
1¼ cups of sugar (plus extra for sprinkling)

1/2 cup butter, softened (extra for brushing tops)


2 cups all-purpose flour

2 teaspoons baking powder

1/2 teaspoon salt


2 large eggs

1/2 cup milk

2 cups fresh blackberries




Directions
Preheat the oven to 375°

Grease non-stick muffin tins with Crisco shortening
In a large mixing bowl, cream sugar and butter together. Beat in one egg at a time (adding a total of 2 eggs)


In a separate bowl, combine the flour, baking powder and salt

Gradually mix flour mixture into butter mixture alternating with milk & beating well after each addition.

Fold in Blackberries (do not use the mixer & beaters here)

Spoon batter into greased muffin tins, approximately 2/3 full in each muffin cup

Sprinkle tops with sugar

Bake at 375° for 20-25 minutes, until a toothpick inserted in the center comes out clean

Using a small silicone pastry brush, brush muffins with melted butter as soon as they are out of the oven and put back in the oven for 2 minutes
Let Cool for 5 minutes, remove from muffin tins & serve

Recommended Baking Essentials
Wilton Non-Stick 6-Cup Standard Muffin Pan, Set of 2Check Price OXO Good Grips Silicone Basting & Pastry Brush - SmallCheck Price LILPARTNER Hand Mixer ElectricCheck Price Tovolo Stainless Steel Mixing (7.5 Quart)Check Price
Or, Try a Blackberry Fruit Cobbler!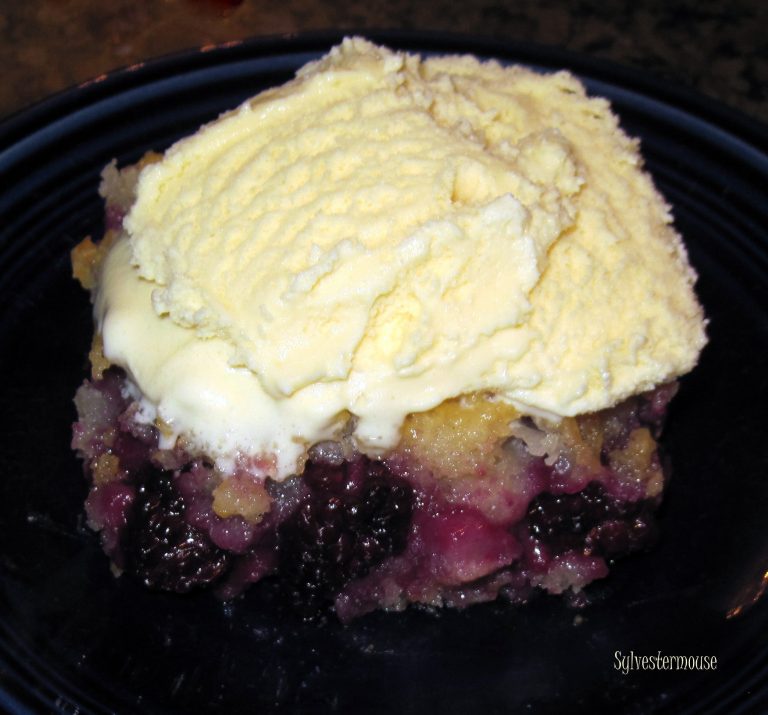 Delicious Blackberry Muffin Recipe Reviewed Written by:
© 2021 Cynthia Sylvestermouse