Lilacs in the Springtime


Spring is such a wonderful time for photography. Flowers are blooming everywhere including my own backyard. I love to go for walks in the neighborhood each day and see what new flowers and flowering trees and bushes are blooming on that day. In the area of the country I live , midwest USA, the beauty begins to unfold in mid March. From that time and for the next 2-3 months there are new delights to find each day! On this page I will share with you, through my photography, some of my favorite springtime flowers.
Early Bloomers
Tulips are one of my favorite early spring flowers. There are different types of tulips that will start blooming in our area throughout April and May. The photographs taken below were captured during the first week of April.
This next photo was taken in late April. This tulip is fully opened and still beautiful.
Zazzle Cards from my Tulip Photos
I love creating cards to send to friends and family from my photographs. Here are a couple I made on Zazzle.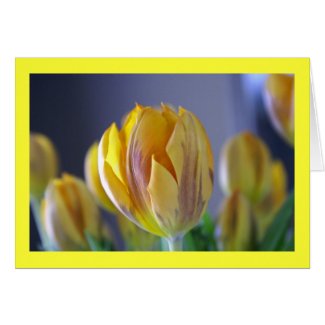 Yellow Tulip
by
mbgphoto


Flowering Trees and Bushes
In the springtime flowering bushes and trees are a wonderful sight to behold. I particularly like the Lilac bush as seen in the photo at the beginning of this article. In addition to being beautiful they have a very fragrant smell and I love cutting some off my lilac bush and bringing them in to my house. They make the whole house smell good.
The red bud tree is another beauty of springtime. In the spring you can see them all over the hillsides in our part of the country. Here is a photo of one that I took at a park near our home.
One of my favorite trees is the dogwood tree. They can be found in both pink and white flowers. Here is a photo of each.


Later Spring Flowers
Once spring is well under way, in late April or May, the Iris's start to bloom. They are such beautiful and stately flowers. I love to photograph them. This first photo is an Iris from my friend's garden.
I really like the two toned colors. Here is another two toned Iris, this one was taken on a walk I took at the Missouri Extension garden.
A solid white Iris can be quite striking. Here is one taken at Missouri Extension garden.


Wildflowers in the Spring
Spring is a wonderful time for wild flowers. You can see many of these native plants along the sides of roads, in parks and in some peoples gardens. Here are a few that I found beautiful.