Image Created with Stencil
National Pink Day is observed on June 23 to celebrate the color pink. So before you read this celebration of all things PINK, go put on a pink shirt or pick a pretty pink flower.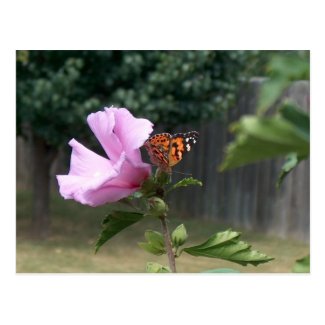 Butterfly and Rose of Sharon Postcard
by Sylvestermouse
Pink is used to represent a variety of causes and awareness factors (breast cancer awareness, diversity issues, etc.) but today we are here to talk about the Color Pink itself.
Pink was first recognized as a color name in the late 17th century. Combined with white or pale blue, it is associated with babyhood/childhood,
often represents femininity,
and has become a sweet, romantic color.
National Pink Day does not appear to have an official origin, but is one of those 'different' days it is fun to have an excuse to celebrate.
It is interesting to note that June is known as
Rose Month
and many varieties of roses are Pink. In fact, this pale red color now called pink originally got its name from a flower of the same name.
The Color Pink Surprised me Today
I have a crochet shop on Etsy where I specialize in creating plush animals. My creations range across the animal kingdom and the color spectrum. Just because a real animal comes in a particular color in nature doesn't mean I have to stick to just that color. Plush animals are a fantasy, especially in a child's world, and can be created in any color you desire. Because of this, my crocheted 'critters' are represented by a wide range of fun & fanciful colors, as you can see by these pink animals in the picture.
On Etsy, we have a forum like most sites do and part of the forum is a promo section where we can show off our latest. Color themes are popular forum threads. Today I picked one forum thread that called for 'pink' items. I did a search within my shop in order to pick out a pink item to feature, and was absolutely amazed at how many pink items I had.
Pink has never been one of my favorite colors stemming from the fact that I was a blond (now gray...LOL) and always thought pink didn't look good on me. It became a habit and I stayed away from anything pink. Well, obviously that no longer applies to my world today, as my pink search selection came up with more than a dozen items in pink and several more that had pink accents. I really surprised myself! :)
Ways to Celebrate

Pink Day
Of course, the easiest way is to wear Pink today.

Eat or drink something pink.

Donate to a charity that uses the color pink for their symbol.

Pick a bouquet of pink flowers.
So, have a lovely PINK day whichever way you choose to celebrate.


Related Pink Articles:
(c) National Pink Day written by Wednesday Elf
FOLLOW US ON: