I enjoy watching and photographing birds and most of the year I do that in my own backyard in Missouri. During March we travel to Florida and this year we stayed in Palm Beach Gardens where there was a nature reserve just steps away from our condo. Every day I would walk back to the reserve and was rewarded with some wonderful sights. There were a wide variety of birds and ducks and I saw several turtles and an alligator.
Identifying Birds
I like to know the kinds of birds I am photographing so I spend a bit of time online finding the names and species of the different birds. I find the website for Florida Audubon at http://fl.audubon.org/ to be very helpful in identifying the birds I photograph. Here are the varieties I have photographed in the nature reserve.
Great Egret

Snowy Egret

Red-winged blackbirds

Doves

White Ibis

Glossy Ibis

Anhinga

Blue Heron

Little Blue Heron

Tri-colored Heron

Sandhill Crane

Roseta Spoonbill

Whistling Duck

Wood Duck

Cormorant

Wood Stork
Ducks in the Wilderness Reserve
The first day I walked into the reserve I noticed some interesting looking ducks. They stood tall and had rather long necks for a duck. I found out that these were called Whistling Ducks.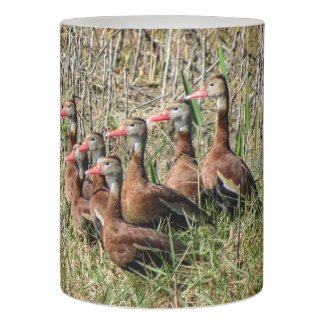 During the next weeks, I observed these ducks each time I visited the reserve. Sometimes they would sit very still, but one day I heard them making a loud racket and then a pair of them would fly up off the ground. This scenario would be repeated by several different pairs of ducks. I'm not sure what they were doing but it was sure interesting to watch.
I also saw some Wood Ducks at the reserve. They are such colorful ducks.
Roseate Spoonbill
One bird that I had never seen before was the Roseate Spoonbill. This bird is easily identified by it's rosy color and flat spoon-like bill. It stood still often so it was easy for me to photograph.
Wood Stork
One day I noticed these rather large white birds in the distance. When they flew the underside of their wings were lined in black. They were quite impressive in flight, but when they settled down they looked quite unusual. I took a photo and went back to my computer to identify them. I easily found a photo and determined them to be a Wood Stork, they are the only stork that breeds in the USA.
Anhinga
The Anhinga is a large water bird found in the warmer waters of the southern Americas. It is sometimes called by several other names: snakebird, darter and water turkey.
I found these birds to be very interesting. They are able to stay underwater for quite some time and I observed them diving for their prey and then resurfacing quite a ways down the stream. At that time only their head and neck would appear above the water before they took another dive into the water. After a while I would see them on the bank drying out their feathers as in the photo above.
I believe the bird in the photo above to be a male anhinga and the one in the photo below to be a female. Males have a black neck and white at the tip of the tail and the female has a beige colored neck and breast.
Sandhill Crane
I saw several sandhill cranes during my visits to the reserve and I even saw one walking down the center of the roadway near our condo. They are tall birds and quite tame. They were easy to take photos of since they did not frighten easily.