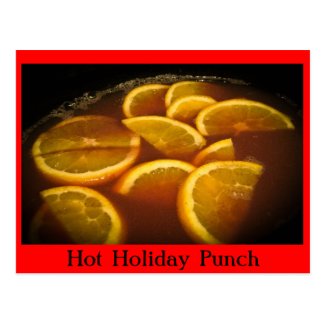 Hot Drink for Cold Days
I love to entertain during the holiday season. When my guests come in from a cold winters evening a cup of hot holiday punch will make them feel warm and festive.
Over the years I have experimented with several combinations for hot drinks and have ended up using this one for the past ten years or so. It has just the right blend of juices and spices and is great with or without alcohol added. I always serve the alcohol on the side and let the guest decide how much to add or not.
Hot Holiday Punch
Ingredients
1 Jar (48 oz) cranberry juice
1 can (46 ox) unsweetened pineapple juice
3/4 cup brown sugar
1 1/2 teaspoon cloves
3/4 teaspoon allspice
3 sticks cinnamon
one orange cut into slices
Instructions
Combine all ingredients in large crockpot and heat. I put a decanter of rum nearby for those who would like to add a bit of liquor.
At the beginning of this page I added a link to a recipe card for the punch that you can purchase on Zazzle.
Mugs for Hot Drinks
Here are some festive mugs I found on Zazzle.
The first one can be personalized with your name.
I wish you a very Merry Christmas and a festive holiday season!!