Last year, I purchased a fabulous gift wrap storage bag from Current catalog. I didn't know if I would like it or not, but the price was right and I had very little to lose by trying it. I knew if it worked for me, I would be thrilled to have a protective way to store my wrapping paper from year to year.
As it turns out, this is one of the best purchases I have ever made!
Like most gift givers, I spend a lot of money on wrapping paper. I love to have pretty gifts under the tree. Or, an attractively wrapped gift for birthdays and other occasions. However, I don't like dirty or ripped paper and I often end up buying new wrapping paper annually for Christmas or even if I have only one gift to wrap. I have always known that it was a waste of money to buy a whole roll for one gift, but I won't give a gift unless it is attractively wrapped. I have been known to even re-wrap a gift if I don't think it is pretty.
Gift Wrap Clear Vinyl Storage Bag - 8-1/2" x 31" Long
Clear Wrapping Paper Storage Bag
There are several things I really love about this wrapping paper storage bag. To start with, I love that it is clear and I can see the paper being stored without opening the bag. I really do hate having to hunt for a specific wrapping paper just to wrap a gift.
I also love that it keeps my wrapping paper clean and pretty, ready to be used immediately. When I stored my wrapping paper in the shipping box, not only could I not see what was inside without opening the box, but the paper would often get creased or even torn when the box was moved around.
Since I store my Christmas wrap in my attic, I am especially thrilled that no attic dwellers or debris can get inside the bag and be my special Christmas surprise.
This storage bag is large enough to hold 8 - 10 rolls of wrapping paper, depending on their size. As you can see in the photo, it will hold the longer wrapping paper rolls too, or you could use that top space for bows, ribbon, tape, and other wrapping supplies.
I absolutely love the handles! The top handle makes it easy for me to carry down the attic stairs and the reinforced double handle on the sides make it easy for me to carry from room to room. The zipper top allows easy access, plus keeps the storage bag closed up tight when not stored.
I sure wish I had this wrapping paper storage bag sooner! I carefully select our annual Christmas paper and I wish some of our older paper was still in good enough condition to use. It would be a tremendous money saver to be able to use the leftover paper.
I should add that I also have a separate gift wrap storage bag for birthday wrapping paper. I keep it in our hall coat closet for extremely easy access. I just reach in and grab the bag when I need to wrap a gift. The only way it could be easier, or better, is if the gift would wrap itself.
The featured wrapping paper storage bag is available on Amazon or directly from Current catalog. Both are linked below for your shopping convenience.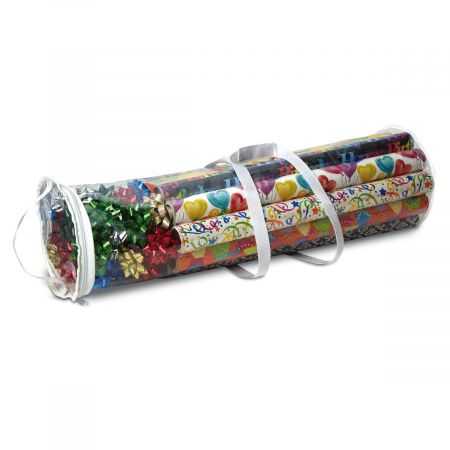 Click Here to Buy from Amazon
---
For More Gift Wrapping Reviews, Check Out These Articles