One of my favorite Christmas outings is a walk down Main Street in downtown St Charles, Missouri. This charming town was built on the banks of the Missouri river. I wrote about this town in a previous post World Wide Photo Walk
In that post you see the town decked out in their fall décor.
In this post I will give you a brief history of the town and then share my photos taken during early December.
A Brief History of St. Charles
Here is a few of the highlights of St. Charles history. If you'd like to know more, check out the link below.
Founded in 1769 by French-Canadian fur trader Louis Blanchette
In 1804 on the banks of the Missouri river, Lewis and Clark met here to begin their westward expedition.
In 1818 Saint Philippine Duchesne established first free girls school west of the Mississippi.
Between 1821-1826 St. Charles served as Missouri's first capital.
Today it is a destination for over one million visitors each year.
https://www.discoverstcharles.com/about/history/
Conservatory for Weddings
Before we started our walk down Main Street we stopped by the Conservatory a greenhouse turned into a wedding venue. It was my first visit and I found it a delightful setting for small weddings. Below is a shot looking toward the front of the greenhouse.
Photos from our Walk down the Historic Streets
After visiting the Conservatory we proceeded down Main Street to photograph the historic buildings in their Christmas décor. I was especially drawn to the windows and doors as you can see in the photos below.
Zazzle Products from Main Street Photos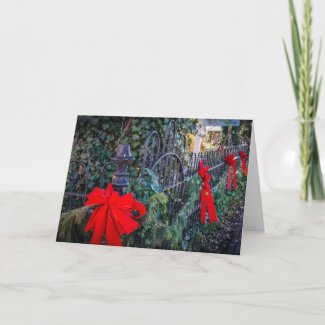 Christmas in Historic St. Charles Holiday Card
by
mbgphoto