Male Northern Cardinal
The Northern Cardinal is one of my favorite birds. They frequently visit my backyard feeders and birdbath and I never get tired of photographing them. I find both the male and female to be very photogenic.
Fun Facts About the Northern Cardinal
State bird of 7 US states

Illinois
Indiana
Kentucky
North Carolina
Ohio
Virginia
West Virginia

Diet consists of seeds, insects and berries
Also known as redbird
Featured as the name of numerous athletic teams including my favorite St. Louis Cardinal baseball team.
Beautiful songbirds who sing year round. Loud whistling song that has many variations including: cheer,cheer,cheer and purty,purty,purty.
Male sings to defend nesting territory.
Cardinals do not migrate and live their entire lives within a few miles.
Cardinal lifespan can be up to 15 years.
Thanks goes to my granddaughter Kate for sharing some of her Cardinal facts with me.


Differences between Male and Female Cardinals
The male Cardinal is perhaps the mostly widely recognized bird in the USA. Male is completely red except for small black mask and a black chin. These birds have heavy bills to deal with their diets.
Although the female is duller in color, I think they are equally beautiful. They are a tawny brown with a small amount of red on the crest, wings and tail. I love their bright orange/red beak.
Photos of Cardinals in my Backyard
This little guy is all puffed up against the cold winter winds.
I like the look on this Cardinals face. He seems to be saying "it's my turn here now...stay away!"
Products with Northern Cardinals
Because they are such a colorful and popular birds you can find numerous products that feature cardinals. A search on Amazon will show you toys, household decorating items and much more. Here are a couple that caught my eye.
I love this colorful Cardinal trivet. What a great way to bring this colorful bird into your home.
If you are looking for some decorations with Cardinals for your deck or patio this beautiful wind chime is just for you. I love the sound of chimes in the wind and I'm sure you will love this colorful decoration.
Cardinal Magnet from my friend Vicki's Zazzle store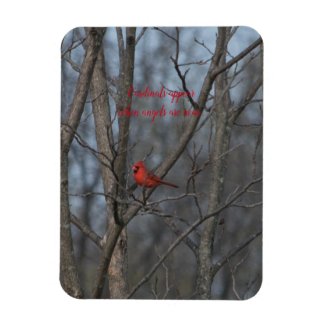 Magnet Cardinals appear when angels are near..
by Vimages4you
FOLLOW US ON: