Sunflowers on Paso Robles Corner Parking Strip, © Barbara Radisavljevic

A Random Act of Beauty?
Would you rather see these gorgeous sunflowers next to your house every day or would you rather have the view below?
That's what I thought. And that's probably what Tiffany, the woman who planted the sunflowers, thought, too. This is part of the parking strip the City of Paso Robles planted. It's across from the house next door to Tiffany. I can see why she preferred sunflowers.
I discovered her literal forest of sunflowers on my way to the grocery store in Paso Robles California one July afternoon. I was participating in a Medium Photo-a-Day Challenge and I hardly ever go out of my neighborhood. When I do go anywhere I can't walk, I try to take a picture of something unique for the challenge. So on my way to the store my plan was to drive around the block the store was on, park behind the store, and walk until I found something worth taking a picture of. I hadn't even turned the corner when I saw this in front of me.
Sunflower Forests on 21st Street, © Barbara Radisavljevic
In the foreground you see the sunflowers in the parking strip in front of Tiffany's house. In the background is the center strip across the southbound lane of the street heading toward Vine Street. I walked the center strip and it appears that besides the flowering trees there, the city had also planted some hummingbird sage (unless someone else did). Most of that strip past the sunflowers looked like this.
Hummingbird Sage in July on 21st Street Median Strip, © Barbara Radisavljevic


There was also a lot of this grassy plant on the median strip. I'm not sure what it is but the city plants it in all these storm drain strips. The white flower is bindweed or wild cucumber. It's a weed. I've no idea what the green plant at the back is. I can understand why Tiffany preferred sunflowers.
You Can Also Create This Kind of Beauty
When I see sunflowers in bloom they lift my spirits. They speak of the energy it takes to grow tall and reach for the sky. And they are easy to grow. Would you like to get involved in your own random act of beauty in your neighborhood or property? You could even make it a family project.
First you need seeds. Here are some good choices for an awesome display.
8 Sunflower Seeds to Plant | Bulk 1000+ Seeds | Heirloom Seeds | Non-GMO Flower Seeds for Planting Outdoors | Garden Seeds for Baby Shower Favors or Wedding Favors | for Birds and Bees
Sunflower Seeds for Planting | Autumn Beauty Non-GMO Sunflower Seeds | Planting Packets Include Planting Instructions
Start Your Day with Sunflower Energy
I confess my normal wake-up default condition is not energetic. It's groggy. I can't even get my eyes to focus when I first get up. Until I've had a couple of cups of tea I'm not very alert. Having your preferred hot beverage while looking a sunflower in the eye should brighten your morning perspective as you fuel up. So I made this for you on Zazzle. You can make it whatever size or style you like best. The largest size mug is eleven ounces. That's enough to wake the brain up!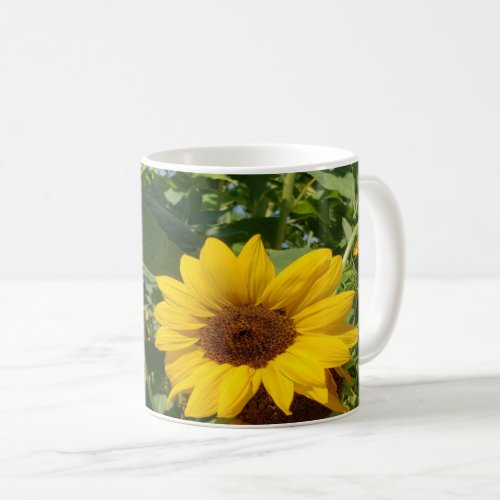 Sunflowers to Perk You Up as You Enjoy Your Drink Coffee Mug

Are you ready to go plant sunflowers this autumn and help brighten the corner of the world where you live? Too many sunflowers live lonely lives with only a few weeds for companionship.