I have always loved the Alfred Hitchcock suspense movies. Hitchcock truly was the master of suspense. No need for gore or extreme violence in his movies. They are simply pure suspenseful entertainment. Many of my favorite actors often starred in Hitchcock movies. To be honest, I'm not sure if they were my favorite actors first, or if the Hitchcock movies introduced me to them. With real actors like Jimmy Stewart, Cary Grant, Grace Kelly and Ingrid Bergman, plus Alfred Hitchcock as the director, the movies were destined for great success!
Ironically, until recently, I had never owned any of the Hitchcock DVD's. My son corrected that horrific oversight by gifting me with an Alfred Hitchcock Suspense Films collection of DVD's. Then, he and my husband joined me for a film festival in our den. We cooked hotdogs, drank cokes and watched several of the movies together. Because there are six movies in my new collection, we have enough left for more film festivals in our den. Needless to say, I look forward to our next Hitchcock binge.
It had been a while since I watched any of the Hitchcock movies and I thoroughly enjoyed seeing them again. However, for my son and my husband, it was their first time to see "Suspicion" and "Strangers On a Train". Now, Alfred Hitchcock has 2 new fans!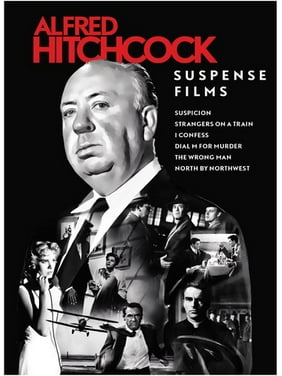 Click to Buy It Now
Alfred Hitchcock Suspense Films Collection
The collection my son chose to give to me includes:
Suspicion starring Cary Grant and Joan Fontaine
Strangers on a Train

starring Farley Granger

I Confess

starring Montgomery Clift

Dial M for Murder

starring Grace Kelly

The Wrong Man

starring Henry Fonda

North by Northwest starring Cary Grant
For our first film festival, we watch "Suspicion" and "Strangers on a Train". They are both great movies!
Review of Suspicion starring Cary Grant
Lina McLaidlaw (Joan Fontaine) seems destined to be a spinster until she meets the charming Johnnie Aysgarth (Cary Grant). She falls head over heals in love with him. Lina is quick to forgive any of Johnnie's minor flaws like his gambling or his outrageous stories created to cover for his actions.
When one of Johnnie's old friends shows up for a visit, Lina is quick to welcome him to their home. Beaky (Nigel Bruce) is very easygoing and likable. He is constantly making excuses for Johnnie's decisions and seems to thoroughly enjoy watching him make up his grand stories to cover his latest scheme. His adoration of Johnnie endears him to Lina.
When Beaky is murdered, Lina suspects her own husband and she worries that she will be his next victim. Thus the name of the movie, "Suspicion".
This film is suspenseful right up until the very end.
Strangers on a Train Review
When Guy Haines (Farley Granger) meets Bruno Antony (Robert Walker) on a train, he doesn't realize he is in the company of a psychopath.
Bruno does start to put Guy on edge though when he starts talking about Guy's life. He knows way too much about Guy, his adulterous wife, and his girlfriend. When Bruno suggests that he will kill Guy's wife if he will in turn kill his father, Guy just wants to get away from Bruno. However, as far as Bruno is concerned, a deal has been struck.
When Bruno kills Guy's wife, Guy realizes how very serious Bruno was with his "murder trade" suggestion. What does he do? Now, Bruno is threatening to set Guy up as his wife's murderer.
Surely he won't kill Bruno's father in return.
Both Suspicion and Strangers on a Train are suspense filled dramas that are sensational and I highly recommend them to anyone who enjoys a great suspense movie. As for me, I look forward to our next "at home" film festival.
More Alfred Hitchcock Film Collections
Alfred Hitchcock: The Essentials CollectionCheck Price Alfred Hitchcock - The Masterpiece CollectionCheck Price The Alfred Hitchcock Signature CollectionCheck Price TCM Greatest Classic Films CollectionCheck Price
Alfred Hitchcock Suspense Films Collection Reviewed Written by: