Family and friends gather in our home every year to watch the 4th of July fireworks and celebrate Independence Day. Long before dark and fireworks, the table is always laden with a variety of food in order to accommodate the various preferences, health issues and diets.
Appetizers to Start
Fruit is the one food choice we all have in common and is part of every holiday menu. However, for our 4th of July celebration, we also get to include Watermelon and Cantaloupe. We have several family members who enjoy creating shaped bowls from the watermelon rind and filling it with a variety of fresh fruit balls and berries. Ct_mom shows us all how to do that in her article Fun Carved Watermelon Ideas. She even included how to make a watermelon keg in her article, which is something I have never done before and would love to try myself this year.
Main Course for Our 4th of July Meal
For many years now, I have made my own special barbeque recipe for sandwiches simply because it is my husband's favorite sandwich meal.
For our vegan daughter, we will prepare Grilled Black Bean Burgers. I was rather excited to discover that Black Bean Burger recipe since I am always searching for a meat alternative to serve for our daughter.
Drinks & 4th of July Dessert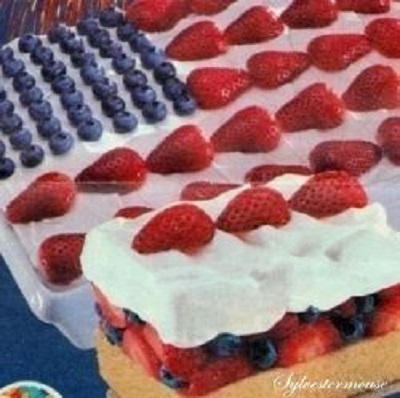 My mother always brings the 4th of July Flag Cake. She started making that cake for the 4th of July when I as a little girl. Here we are decades later and it is still a family favorite.
I also make homemade, fresh squeezed lemonade for our gathering. My lemonade recipe is really very easy to prepare and is the most requested summertime drink in our home, but it is always fun to add a little fun to the mix with Mocktails by hlkljgk.
Write & Share Your 4th of July Recipes
The Fourth of July celebration is truly a blast in our home! I am always looking for new ideas and recipes to serve and share.
If you have a recipe for the 4th of July celebration that you would like to share, simply leave your link in the guestbook below.
If you are planning a party for the 4th of July, you will definitely want to visit "Patriotic Party Time" for a wealth of suggestions and tips.