I now add Clorox 2 to Every Load of Laundry!
Almost 2 years ago, we were forced to buy a new washing machine because our 20+ year old machine could no longer be repaired. I was not at all prepared for what we discovered when shopping for a new laundry washer. The newer models no longer have an agitator in the tub of the machine. Many of you may have already discovered that during your own shopping quests, but I was shocked.
With a height of
only 5' 2", I found I could not reach the bottom of the washing machine tubs on the display floor. The salesman recommended I use a step stool. Ugh, no! I was not going to use a step stool to remove the washed laundry from my machine with every load of laundry, every day.
I finally found a Kenmore washing machine at the 3rd store that had a sloped front inside the machine so I could actually reach the bottom of the tub when leaning in. So, I thought problem solved. I didn't expect the next problem at all.
Adding Clorox 2 to Our Wash
Washing Machine with No Agitator Requires Clorox 2
Our new machine arrived and I was thrilled to be able to wash clothes again. That is, until I smelled the first few loads of washed laundry. For a while, I was able to convince myself that it was because the machine was new. It was not!
Oh, how I missed my agitator washing machine!!! My clean clothes smelled musty, which made me think they were not clean.
I tried adding vinegar to every load. It seemed to help some, but I could still smell traces of that nasty musty smell. Using a scented detergent might have worked, but I'm not keen on covering one smell with another. Plus, I am allergic to most scented detergents. Actually, I am allergic to all scented detergents that I have ever tried, but I said "most" simply because there might be one I could use that I have never tried.
Finally, after a year of hating the smell of our clean clothes and being clueless what to do other than buy another new machine, I spied the Clorox 2 on the grocery shelf. I had used it years ago as a color booster so I knew I was safe to try it again. Glory be! It actually worked!!!
Not only does it help maintain the color of our clothes, but it actually cleans away that musty smell. Once again, our clothes, bed linens and towels smell clean.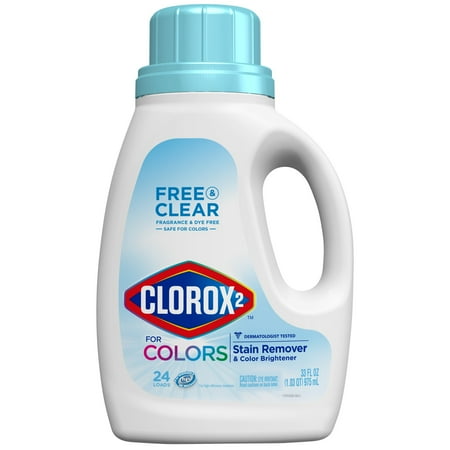 Clorox 2 For Colors - Free & Clear Stain Remover And Color Brightener
Check Price
Thank you Clorox 2 for giving me back clean, and not stinky, clothes & linens!
How I Use Clorox 2
I measure only to the first line on the cup lid of Clorox 2 and add it in with my regular washing detergent. That way, it lasts a lot longer, but still does the job.
If you find you are experiencing the same issue with the new agitatorless washing machines, or if you want a color booster for your clothes, I highly recommend Clorox 2. I do prefer the "Fragrance & Dye Free" option, but decades ago I did use the regular scent and didn't have any problems with it. I should note, I cannot touch bleach without having an allergic reaction, or even smell it without getting an extreme headache, but the Clorox 2 doesn't bother me at all.
Here's to having clean, vibrant, and fresh smelling clothes!