I like all wildlife decor, but I recently realized how often I choose bird decor for my home.
I love birds, but I'm not sure if my decorating choices are because of my love for birds, or if it is because of availability. I do see a lot of decorative accessories that feature birds.
I also take a ton of pictures of birds. Again, they are what "decorate" my backyard daily and are easily available to photograph. I enjoy seeing the flashes of color zipping across the sky, as well as, sitting in my trees.
We also enjoy walking wooded trails, driving along jeep trails, and exploring nature. I get really excited when I capture on bird's photo in a unique setting. That was the case with the gorgeous owl photo (shown below) now available in my Zazzle store.
Birds always remind me of scripture. So many verses come to mind when I see a dove, a sparrow or an eagle. Perhaps, that is the main reason I love birds so much. They always remind me of God and His promises to mankind. My relationship to God is the core of my very being and I delight at every reminder of Him.
Bird Pillows Make Home Decor Impact
Barred Owl - Here's Looking at You! Throw Pillow - Available on Zazzle - Photo by Cynthia Sylvestermouse
Check Price
I have multiple throw pillows on my couches, chairs and even beds that feature birds. Several are only birds, but others have birds as part of the wildlife & nature scenes with flowers, rabbits, or foxes. All are welcoming additions to my home decor.
Using pillows that feature birds are such a great way to add a touch of color or contrast to a room, just like they add to nature.
Most of my furniture is tan or brown with dark wood. My home needs those sparks of beauty interspersed among those otherwise bland decor choices. I consider the brown to be the background for the beauty.
These are a few of the bird throw pillows that liven up a room by adding contract or color in home decor.
Bird Magnets Hold Reminders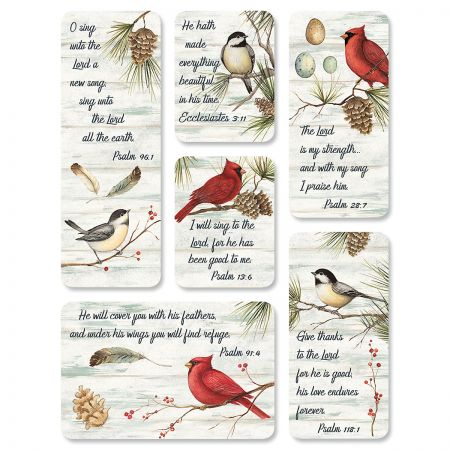 Click Magnet Image to Purchase
I have at least a dozen bird magnets on my refrigerator.
We use them to hold notes, newspaper clippings, recipes, or even photos in place. My favorites are the ones that also feature quotes from the Bible. I like those little reminders around.
I work in the kitchen almost all day long. Whatever happens, conversations, accidents, or actual work, it is usually in my kitchen or I hear about it in my kitchen.
I find myself glancing at those scriptures as I catch my breath. They help calm me and remind me that God is always in control and is here with me.
I find it rather ironic that something so inexpensive can make such a huge impact on my daily life.
Bird Coasters in Every Room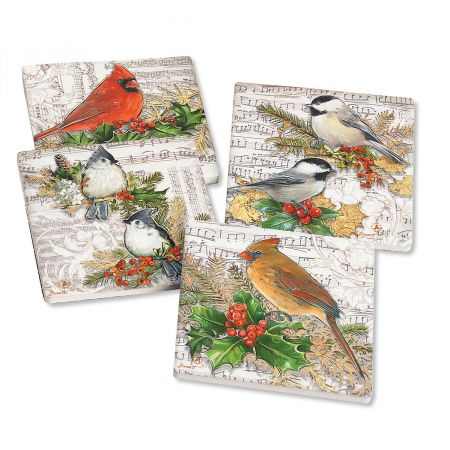 Click the Coaster Image to Purchase these Bird Coasters
We have coasters in every room of our home to protect our wood and marble table tops.
Most drinking glasses or mugs will leave a ring on whatever surface it is resting on. Therefore, I always want my coasters to protect my tables.
I have several sets of the bird coasters featured on the right. They are my favorite coasters in my home. Not only do I adore the bird images, but I also like how easy they are to clean. These coasters are made for ceramic tile and have a protective backing to prevent scratching the wood table tops.
It is really hard for me to choose which of these birds I like the best because they are all so beautiful. Even the female cardinal, which is not known for her color, holds a special place in my heart. After all, without her, there would be no vibrant red male cardinals.
Bird Trinket Boxes
I also collect trinket boxes. Among my favorites, are of course, my birds.
My husband has sought out and given me some of the most beautiful bird trinket boxes. He even gave me a display tree for my bird boxes for Christmas one year. It certainly makes displaying my jeweled boxes a lot easier. Now I can adore them all at once and they take up a lot less space.
I know some people consider these knick knacks to be useless clutter, but I consider them trinkets of love. After all, it took decades to build my collection of bird trinket boxes. Each one reminds me of a special occasion, a thoughtful gift and a very considerate giver.
Additional Ideas in Bird Home Decor include Kitchen Towels, Bed Linens, Decorative Lamps, Bird Teapots, Bird Platters/Trays, Sugar Bowls & Creamer sets, Salt & Peppers Shaker Sets, Figurines & more. The ideas really are extensive.
Bird Decor for the Home Reviewed by: