Scalloped Potatoes are the only potato side dish that I do not make from scratch.
I decided decades ago that it was not worth my time in the kitchen to peel & thinly chop fresh potatoes when Betty Crocker Scalloped Potatoes were available in a box at the grocery store.
Anyone who knows me knows that I rarely cut corners when cooking, but my family loves the Betty Crocker scalloped potatoes and they would be the measuring standard used if I did make homemade scalloped potatoes. That is a challenge I have not been willing to accept!
The boxed scalloped potatoes are easy to prepare and allow me to focus on the main dish. They simply make meal preparation simpler and I allow myself this break. I liken the choice to use the boxed scalloped potatoes to opening a can of peas or green beans that I have not had to shell.

There are several varieties available, but I have only tried the basic Betty Crocker Scalloped Potatoes shown below.
Betty Crocker Scalloped Potatoes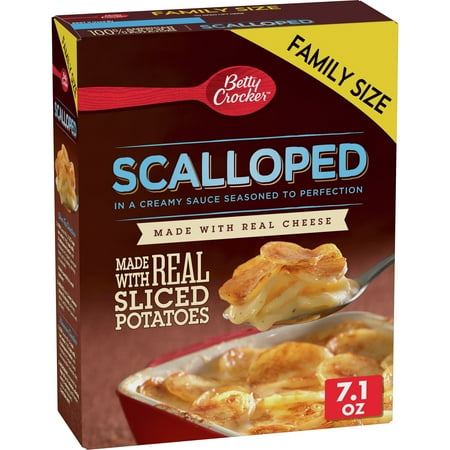 Betty Crocker Scalloped Potatoes Made with Real Cheese 7.1 oz
Real scalloped potatoes in a creamy sauce seasoned to perfection.
These 100% American Grown Potatoes
make a perfect side dish for your family meal.
The box of scalloped potatoes can be cooked in the microwave, cooked on the stove-top, or baked in the oven. I always bake mine. On occasion, I bake them at the same time, in the same oven, as the meat for dinner. There are baking instructions on the box for several oven temperatures to make baking them at the same time easier.
For the family size box shown on the right, you would need 2⅔ cups water, 1½ cups milk, and 3 Tablespoons butter.
Simply stir the included sauce mix with water, milk & butter together, then add the potatoes and bake uncovered for 32 minutes on 450°F.
If you wish to make the potatoes while roasting meat, you can increase the time and decrease the temperature to the appropriate meat temperature.
325° for 65 minutes

350° for 60 minutes

375° for 55 minutes
Please refer to the box if you select a different size other than the family size box for specific ingredient measurements.
Some of the Varieties Available on Amazon
Check Price
Check Price
Check Price
Check Price
Check Price
Check Price
Homemade Scalloped Potatoes
Betty Crocker does offer a homemade scalloped potato recipe on their website. You can see it by clicking here